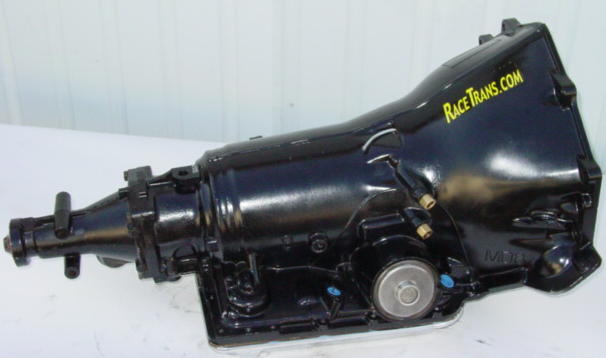 700-R4 RV/SS
General Motors Four Speed automatic transmission with 30% overdrive. These transmissions are a great alternative to a manual transmission for installation in street and performance applications requiring an overdrive. Ratios are: 3.06 first gear, 1.62 second gear, 1.00 third gear and .70 fourth. It allows lower first gear starting line acceleration and a 30% overdrive for the highway. Stall speeds range from 1800-4000 RPM. It is especially good for high performance street rods and machines that are driven on a regular basis. This transmission is built to a specification that has proven itself time and time again.
Every 700-R4 includes:
1987 and later cores are used due to GM updates

5 pinion low planet for 4X4 Transmissions
Hardened planetary ring gear
30 spline heavy duty input shaft
10 vane blueprinted front pump
.571 RaceTrans T.V. Valve
9 clutch 3rd gear pack (Stock transmission uses only 6 clutches.)
High Performance band with wider surface area for more holding power
Sonnax "Smart Shell" and drum re-inforcement sleeve
Modified valve body separator plate
Alto Red Eagle clutches and Kolene coated steels
Corvette servo assembly
1 12 volt wire connection needed for loc-up operation
GM heavy duty sprags
Correct Speedo Gears for application
Dyno Tested

Transmission modified for non-computer vehicles at no extra charge.

Transmission can be manually or automatic shifted

Installation kit available for $199.